Adding Box Squats to your Strength Training
Posted: January 6, 2012
Filed under: 00 - Lifting Tips, 01 - Squat Tips
| Tags: Box Squat Technique, Box Squats, Leg Strength, Muscle Building, Power, Powerlifting, Squat Technique, Squats, Strength
Leave a comment »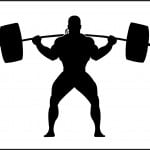 I was at the gym yesterday and watched a kid doing box squats. For the box, although the gym has a full set of plyo boxes, he was using a flat bench and doing touch and goes. Now unless you're about seven feet tall, a bench is likely too high for box squats. In this case, his squats ended about three inches above parallel when he hit the bench.
There are actually several reasons to add box squats to your strength training, and your technique will differ slightly for each. When considering whether to use box squats in your training routine, you need to understand the purpose, and select the right technique.
Learning to squat: If you've never squatted before, performing box squats can help you get comfortable sitting into your squat. To squat properly, you need to learn to sit into it just like you would sit into a chair. Using a box can give you a sense of security as you learn to sit back into the squat. When using the box squat to learn squat technique you should use little or no weight, and concentrate on controlling your descent so you land on the box lightly. Come to a full rest on the box before standing back up. Once you're comfortable sitting into your squat you can move on to normal squats and work on loading up the bar.
Touch and Go: The touch and go is used to help 'find depth'. This form of box squats helps you find proper squat depth (thigh is below parallel). You do not come to full rest on the box when performing touch and goes. Descend until you feel the box then immediately drive back up. Once your comfortable hitting depth remove the box perform normal squats.
Full Box Squats: Full box squats are a tool that can help build explosive power out of the bottom. When performing full box squats, descend until you come to a full rest on the box then drive explosively up off the box. Avoid leaning forward to begin the ascent as this can reduce the emphasis on your glutes and hams. As opposed to touch and goes full box squats can be used at any time as an alternative to normal squats. They are a great training tool to create strength at the bottom of your squat and build explosiveness out of the hole.
General Tips for Box Squats:
Use a box that is the right height for appropriate squat depth. Do you really need a box to tell you your squats are high? I'll help with that: "your squats are high". Now suck it up and drop your squats into the hole.
Never anticipate the box. Don't squat to sit onto the box. Keep descending with proper squat technique until you hit the box then drive back up. If you are slightly surprised by hitting the box then you're doing it right.
Land lightly on the box. Descend in a controlled manner and land lightly on the box. Plopping down hard on the box with a loaded bar on your back is a sure way to end your lifting career.
Unless you're doing full box squats, once your squatting issue is resolved, move on to regular squats.
If you're using the box squat because it's in the latest edition of the Spartacus Leg Mauling training program, step back and assess why you're using the box. If it's a fit with your training goals, select the appropriate method and a box that will drop you into the hole.

---